Fashion Zone Report:
Look at Chelsea Clinton, Victoria Beckham, Kate Hudson and Jennifer Lopez the name of the preaching of women who design wedding dress -
Vera Wang
! So the senior designer for a wedding proposal wedding is indeed a must-listen.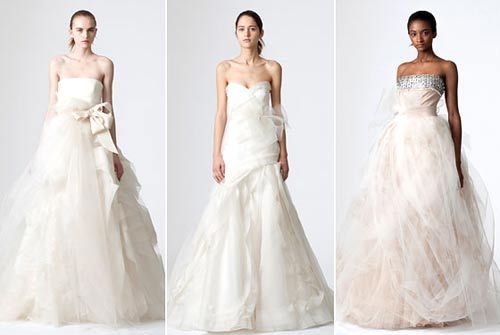 Vera Wang 2011 Spring Series
Recently, Vera Wang presented some of her wedding for the recommendations, which can not be measured in monetary terms can be described as a.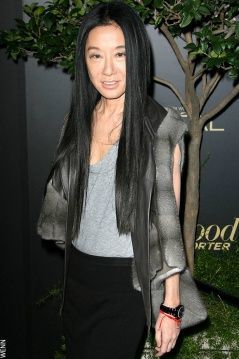 Vera Wang
1 for your dress to feel comfortable, it is very important. Only highlights the confidence to feel comfortable elegance. Therefore, do not choose to have a "challenging" or difficult to wear a dress;
2 To clear what you want the wedding. Dress the size of the cut, profile, decorative, and other elements to not only the need to weigh the wedding venue, but also consider the time of the wedding, the temperature and so on. Wedding is not just a personal decision by the bride's. More gauze summer, winter, more beaded, needed due to other factors, no complete law.
3 design from the perspective of the whole match. Wedding, hair, bouquet size and must be considered the choice of shoes, of course, should be considered even makeup. Many brides choose wedding in the upper and lower foot work, but ignore the headdress, crowns and other accessories, will become cumbersome.
4 need to control the bouquet design, bouquet wedding is too big or too heavy will affect the results. This can take a look at Princess Diana and Mariah Carey's wedding bouquet.
5 skirt length is the key. Skirt designed to ensure that the shoes will not be exposed, and the positive just seems to float on the ground. Long skirt is cumbersome, and may affect the bride to walk. Of course, the wedding dress is best not to mention the phenomenon occurs.
6 make-up is another thing to consider. I am not obsessed with red lips with white dress, but if you are not in daily life painted blue, purple or bright crystal color eye shadow, why not try it in the wedding day? After look at the painting, do not let yourself become different and usually big, hair too. Sometimes hair stylist will be too focused on design, the hair is too cumbersome, the color is too complicated. Hair and brooch is also essential.
7 I do not sound like those walking shoes, fashion models, or whether it is suitable for wedding shoes, still prefer tapered toes. High and low heel height can be selected according to your husband.
8 shooting wedding photos, you can use color photos, black and white photographs are essential, of course, the classic black and white represents a lasting marriage.
9, no matter the size of wedding, be careful when wearing. Colored drinks to avoid any drinks, or cosmetics on the stained dress.
10 Enjoy the wedding moment. People walk through the wedding channel, always a bit urgent, I do not understand that this is too much tension, or other reasons. But you have to remember, guests at the ceremony to see almost all of your back, so through the aisle, try to slow down, let your guests enjoy a good wedding dress and makeup.